WATERLOO — Bosnians from across the Cedar Valley and around the United States gathered this weekend to celebrate their culture with traditional dances, music, soccer and a lot of partying.
Krajiski Teferic, now in its 20th year, returned to Waterloo for the fourth time since 1999. The city hosts it in rotation with Chicago, St. Louis, Utica, N.Y., Detroit and Fort Wayne, Ind. The event is named for an area in northwest Bosnia many Bosnian-Americans settling in Waterloo and the region used to call home.
Thousands of people were part of the festivities Friday and Saturday, including "probably two or three thousand" from outside of the Waterloo-Cedar Falls area, said Zulfeta Rizvic, one of the organizers.
Friday night featured a folk festival with traditional Bosnian dance and popular songs at the RiverLoop Amphitheater. Dance groups included performers from Chicago and the band had members from all over the U.S. plus a performer from Bosnia, according to Rizvic.
The performances continued Saturday at the Cedar Valley Soccer Complex, where a soccer tournament also was underway. Festivities concluded Saturday evening with a party at the Five Sullivan Brothers Convention Center.
Elvis and Sejla Cejvanovic of Waterloo were at the amphitheater Friday with their young children, where they met friends from St. Louis, Chicago and Minnesota.
"We came out because it's our culture," said Elvis Cejvanovic, noting the importance of the children learning about the dances. "It's a big Bosnian community reunion."
"I think it's just cool, the community celebrating our culture," added Sejla Cejvanovic. "We're part of the diversity in this community."
As immigrants from Bosnia who have settled all over America, Sehrizada Dzebic said, the annual gathering is important to participants.
"This is our best way to get together," said the Waterloo woman, adding it is also a chance to "watch our lovely soccer."
Sanja Mujkic of Waterloo said, "It's just nice because it's our heritage."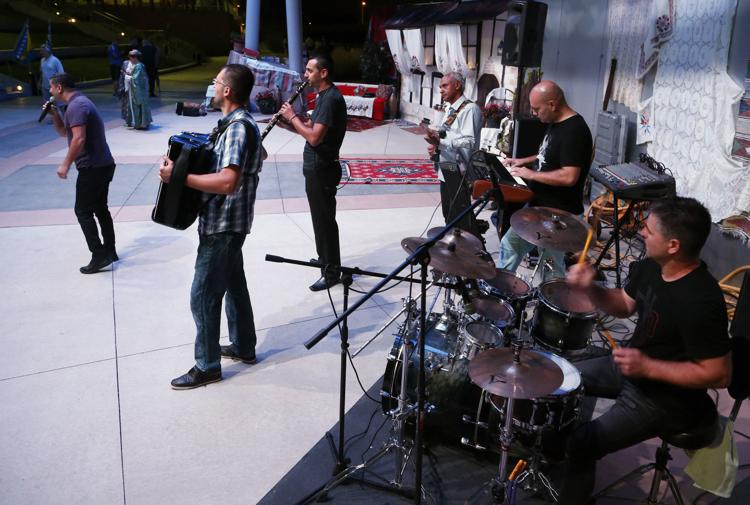 Rizvic, speaking Saturday while serving food at the soccer complex, called the festival a "heartwarming" event that gets many volunteers working together along with reuniting families and friends.
It's "thousands of people and we are like one," she said.