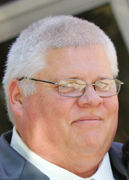 PARKERSBURG — Michael Robert "Mike" Buchholz, 55, of Parkersburg, died Saturday, March 10, at the University of Kansas Hospital in Kansas City, Kan., from complications of a cranial hemorrhage.
He was born June 1, 1962, in Waterloo, son of Merlen Herman and Thelma Joan Buck Buchholz. On Aug. 8, 1992, he married Paula Lynn Truitt at United Methodist Church, Sumner.
Mike graduated from Sumner Community High School in 1980. He went on to get a degree from Southeastern Academy in airline ticketing and business management in Kissimmee, Fla. Growing up, Mike worked on the family farm and continued to for seven years after school. He and his brother, Gordon, co-owned Snyder's Tap in Sumner for four years. He also worked at IBP in Storm Lake and Tyson Fresh Meats in Waterloo. He later went to Whitaker Foods in Waterloo as a plant manager. Mike's last position was at Aplington-Parkersburg Community School District as a transportation director.
Survived by: his wife; a daughter, Amanda Sue (Aaron) Adams of Lincoln, Neb.; two sons, Peyton Michael Buchholz and Joshua Robert Buchholz, both of Cedar Rapids; three brothers, Gordon (Scarlett) Buchholz of Mason City, Allen Buchholz of Sumner and Gary Buchholz of Waterloo; and many relatives and friends.
Preceded in death by: his parents; and an infant sister, Katherine Buchholz.
Services: 10 a.m. Thursday, March 15, at Parkersburg United Methodist Church, Parkersburg, with a burial service for family and close friends in the Littleton Cemetery in Littleton. Visitation is 5 to 8 p.m. Wednesday, March 14, with a 6:30 p.m. service for a time of prayer and sharing of memories at the Redman-Schwartz Funeral Home in Parkersburg. Visitation also will be one hour before services Thursday at the church.
Memorials: may be directed to the family.
Mike had a relationship with the Lord and faithfully read his Bible. He was a true family man. Mike lived a joyful life full of love, kindness and fairness. His generosity continued on after his death through his organ donation.