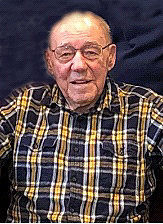 WATERLOO — Burdette Charles Jensen, 95, of Waterloo, died Saturday, May 12, at the Cedar Valley Hospice Home of cancer.
He was born Jan. 20, 1923, on his grandfather's farm in Garwin to Hans and Dorothy Jensen. He married Ruth Mathews on Oct. 4, 1947, in Waterloo; she preceded him in death Sept. 22, 2013.
He served in the Navy during World War II. He was a carpenter for many years and then a machinist at John Deere from which he retired from April 30, 1983, after 22 years.
Survived by: four daughters, Pam (Cathy Hohenberger) of Waterloo, Eunice (Jim) Hayek of Davenport, Danette (Bruce) Schaefer of Waterloo and Denise Kafer (Steve Mehalovich) of Des Moines; a son, Ed (Jan) Jensen of Waterloo; 12 grandchildren; 25 great-grandchildren; and nine great-great grandchildren.
Preceded in death by: his parents; his wife; a sister, Alberta Block; and a daughter, Roxann Conerd.
Family graveside services: for Burdette and Ruth will be at a later date in Fairview Cemetery. Parrott & Wood Chapel of Memories, an Overton Family Service, is in charge of arrangements.
Memorials: may be directed to Cedar Valley Hospice.
Burdette lived a full life and was a wonderful father, grandfather, great-grandfather and great-great-grandfather.