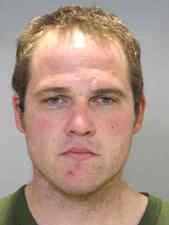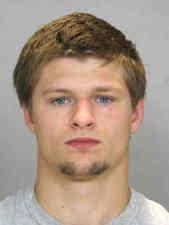 WATERLOO – A Denver man was arrested after authorities allegedly found loot from at least three Bremer County burglaries in his storage unit.
Aaron Michael Thurm, 29, was arrested Thursday night for two counts each of first- and second-degree theft. He was also arrested on weapons and prescription drug charges.
He was taken to the Black Hawk County Jail, and his bond was set at $35,000.
The theft charges stem from burglaries and thefts in Bremer County earlier this month.
On Feb. 3, a Polaris Ranger vehicle valued at $12,000 was stolen from an address on 275th Street in Janesville. Also taken were numerous tools and a power washer.
On Feb. 5 deputies began investigating a burglary on Midway Avenue in Tripoli where a John Deere power washer, tools and a grain moisture tester were taken. The loss was estimated at $50,000, court records state.
Finally on Feb. 9, a John Deere riding mower valued at $11,000 and other equipment was stolen from a Denver address on 270th Street.
The Ranger was initially found in a wooded area off of Airline Highway and U.S. Highway 63 in Waterloo, and the person who found the vehicle notified the owner. But when they returned, the vehicle was gone.
Further investigation led deputies to a home at 2814 Logan Ave., less than a mile from where the Ranger had been seen. On Feb. 10, deputies searched the home and a storage unit Thurm had rented on Diagonal Drive in Waterloo. Investigators found the Ranger, power washers and numerous tools at the storage unit, court records state.
Court records allege Thurm had been to some of the Bremer County properties as part of construction jobs.
The drug and weapons charges stem from a stun gun and other items found when he was detained Thursday at the Cedar Falls Wal-Mart.
Meth lab found in backpack
CHARLES CITY — Police in Charles City are searching for the owner of a backpack containing items used to make methamphetamine.
A resident spotted the abandoned backpack and called police about 4:30 p.m. Wednesday.
Police Chief Hugh Anderson said it was off the Charley Western trail in a wooded area behind Charles Street.
"Basically a discarded meth lab," Anderson said.
No arrests have been made.
In May, a backpack containing similar items was found stashed along a tree line in the 1400 block of Gilbert Street.
The Iowa Division of Narcotics Enforcement took possession of items in both instances. The incidents were both reported by local residents.
Anderson said it's important residents call police when they find containers, jars or bottles laying around.
All of those things could contain chemicals used in meth labs. And, those chemicals may still cause harm even after the lab is abandoned and the items are thrown away.
Man arrested in bar, business burglaries
WATERLOO – A Waterloo man has been arrested in connection with break-ins at a meat shop and two bars, including a burglary where an ATM was stolen.
Authorities allege Gavin Dale James Eastman, 21, helped take items from businesses in Raymond and rural Cedar Falls in January, and investigators found items taken from an Urbana bar when searching a home that same month.
Eastman is charged with second-degree theft, second-degree burglary and third-degree burglary and remains in the Black Hawk County Jail.
One of the break-ins was discovered Jan. 18 at Tipsy'z Bar and Grill, 309 W. Third St., in Raymond. Someone had pried open a window, and an ATM machine, liquor and snacks had been removed. Footage from a security video showed two men loading property from the bar into a 2005 Ford Escape.
Then on Jan. 25, authorities were sent to investigate a burglary at Steege's Meat Market, 9502 W. First St., Cedar Falls. Missing items included a Remington .22-caliber rifle, a laptop computer and a drill.
That same night, someone had attempted to pry open the door to a bar in New Hartford and had entered T&L Pizza in Parkersburg through a window and stole quarters from a gumball machine. Shoe prints at both scenes were similar to those left in the Tipsy's and Steege's crimes, records state.
Black Hawk County deputies found the Escape at a home at 2018 Lafayette St. on Jan. 26, and witnesses told police Eastman and another person had unloaded a 55-inch TV, liquor bottles, snacks, pool league paperwork and other items at the residence and then left. The property — about $1,437 worth — corresponded with items taken in a recent burglary to the O-Zone bar on Wood Street in Urbana, court records state.
On Jan. 30, deputies searched a home at 1286 St. Andrews Ave. in Waterloo where Eastman had been staying and found the drill and lap top from the meat shop, court records state. Also located were several bottles of alcohol. Deputies also found numerous bottles of alcohol and broken ATM parts in the apartment.
The rest of the ATM was discovered in a nearby ditch, court records state.
Witnesses told investigators Eastman had been seen in an Escape during the timeframe of the Raymond burglary, and his shoes matched prints found at scene of the Raymond and Cedar Falls break-ins, court records state.