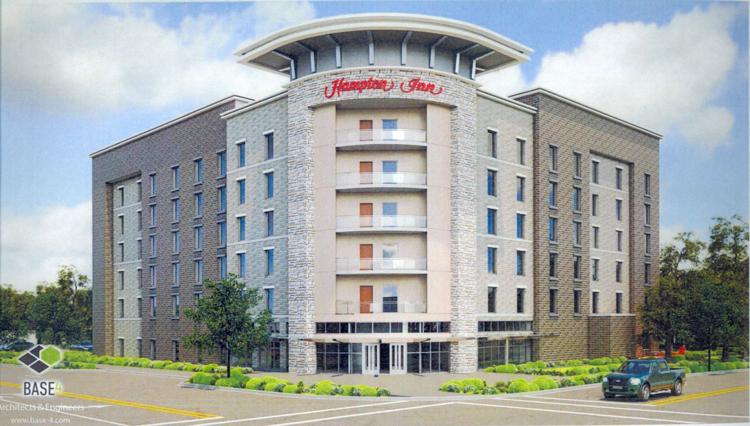 CEDAR FALLS — Plans for two major hotel projects came before the Cedar Falls Planning and Zoning Commission for discussion Wednesday night.
Hawkeye Hotels, based in Coralville, presented plans for an 82,000-square-foot, 127-room six-story hotel at West First and Main Streets on the former site of the Broom Factory restaurant, now demolished, and the former Cedar Falls Chamber of Commerce building.
As proposed, the building would be the tallest in downtown Cedar Falls, about 18 feet taller than the average height of similar adjacent buildings, according to a city planning staff report.
Some commission members said they'd like the design to be more compatible with older existing buildings downtown but generally welcomed the project.
"I think it's close to what's required for downtown," commission member Brian Arnston said. He said he'd like it have less of a "corporate" look, "but again, great redevelopment here."
The property's "been sitting there for 10 years, and it's time for something to be there. It could really impact, and it's going to change, downtown. This is a big project for all the business owners on that street," Arnston said.
City staff recommended the project be coordinated with adjacent downtown flood levee work.
Om Patel, director of development for Hawkeye Hotels, said "We look forward to working with the city of Cedar Falls on this project.
Commission member LeaAnn Saul said the project essentially extends the Main Street Parkade across West First Street.
Holiday Inn & Suites
The commission also reviewed CF Gateway Park Inc.'s plans for a proposed Holiday Inn & Suites conference center northeast of Hudson Road and West Ridgeway Avenue, near the Hudson Road/U.S. Highway 20 interchange. It would be a four-story, 127-room facility with a 31,000 square foot conference center. A convention center facility was proposed for that site last March by Open Door Hospitality, a company of local hotelier Atul Patel, not related to Om Patel. Open Door would operate the facility. It also has an adjacent Best Western hotel.
City staff recommended its hotel and convention center signage comply with the U.S. Highway 20 corridor zoning and the building design include additional brick or stone.
Arnston said the project is "a very significant and substantial investment coming into town" and the first thing many visitors see coming into town on Highway 20.
Commission members took no action on either proposal; items were on the agenda for discussion only. The commission will take both of them up again in two weeks for a possible vote and recommendation to the City Council.
The commission also reviewed a proposal to relocate the former Cedar Falls Chamber building from the proposed Hampton Inn site to a location on East Fourth Street on developer Mark Kittrell's River Place development for new offices for Cedar Falls Community Main Street. No action was taken; that proposal also will be taken up by the commission in two weeks.