LA PORTE CITY — The sign in front of Tootsie's ice cream shop on the corner of Main and Commercial streets says it all — "Pray for Jake's safe return."
As the search for 16-year-old Jake Wilson wound through its third day, a crew of volunteers dropped by the shop on the corner of Main and Commercial street — one of the autistic teen's last stops before his disappearance. They ordered lunch through the same window Jake used.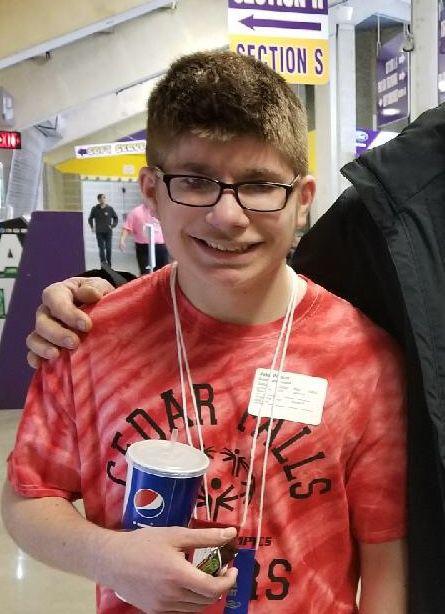 "It's just sad," said Teresa Seibert, who owns the shop, which features a classic red Volkswagen Beetle on its roof.
"We would like him to come back home, that's it," she said. "I was wanting to say, you get a free Twister if you come home. We want you home."
Tootsie's employees are familiar with Jake. He comes by for treats two or three times a month, said employee John Aldermund. Sometimes Jake comes with a friend, and the friend orders for him. Other times, parents would phone in the order ahead of time, and Jake would arrive with exact change.
That was the case Saturday night. Jake came and picked up a cookies-and-cream Twister, said Aldermund, who filled the order.
"His parents called in like they normally do, and then Jake just come up and gets his ice cream," Aldermund said. "I give it to him, and he's on his way."
Seibert said a lot of customers call in advance and then come to the window or the drive-through to save time.
Family members said after Jake returned home from Tootsie's, he asked to go to Wolf Creek, a few blocks away. When he didn't return, relatives began searching and called authorities.
Search efforts continue Tuesday.
Police Chief Chris Brecher said authorities are receiving everything they need from the family.
"They've been fantastic. ... They are here with us every day. They are here with the first and gone with the last. They have been huge in helping us with the little things. We are in a flood plain, and a lot of stuff gets washed through here. The family has been more than willing to help us eliminate things that we find.
"They are doing as well as we can expect," he said. "They have good friends and family around them. There have been some tears, but they have an awesome circle."
About 480 volunteers signed in at the town fire station for Tuesday's search. They took part in a line search in the neighborhood between the teen's Commercial Street home and Wolf Creek, about two blocks away.
"It's an arm-to-arm search where it's like you got the horse blinders on and you are looking at the ground for anything that you make have overlooked," said Brecher. "As things are being found they are being marked, and we have investigators on the scene checking out what it is or if it even pertains to our investigation."
Other volunteers were bused to rural timbered areas for searches, and ATVs and UTVs are combing open fields in the area. Some 97 all-terrain vehicles are being used, he said.
Also on the scene Tuesday are scent-based tracking dogs, which Brecher said operate differently than dogs used earlier that track ground disturbance.
Horseback groups also aided the search, and a team in waders was walking in the creek at Highway 218.
Brecher said the search covers about a 9-mile radius, or about 255 square miles.
Volunteers will gather again this morning at the fire station.
Becher said morale is very good.
"People are still optimistic," he said. "You can't ask for a better crowd than we've been getting. The people have been very strong and willing to go out into the elements and put a lot of miles on. … You can't thank them enough.
Sheriff Tony Thompson said the investigation also has been growing. He estimated between 300 and 500 leads have been received.
"We've added DCI agents, we've added FBI agents from as far away as Milwaukee. ... We have members from National Missing and Exploited Children. We have DCI agents whose specialty is child enticement. We have a quite a robust amount of investigators," Thompson said.
Additionally, a Child Abduction Response Team is being brought in.
"Don't read anything into that other than they have specific expertise," Thompson said. "… We're still treating this as a missing person. But we are still processing this … as we would any other criminal investigation."
Asked if Jake could have climbed into a car with someone, Thompson said all possibilities are on the table.
"That's an absolutely realistic consideration, one that we continue to contemplate," Thompson said.
He said authorities have developed a solid timeline leading up the disappearance and data from video, cellphones and cell towers is being processed.
Jake is about 5 feet 6 inches tall and weighs about 135 pounds with hazel eyes and dirty blonde hair. He was wearing a brown zip-up jacket, dark sweatpants and cowboy boots.
He has autism with a mild intellectual disorder and functions at a 9-year-old level, his mother said.
Anyone spotting Jake is asked to call Black Hawk County Dispatch at (319) 291-2515 or local authorities.
Holly Hudson contributed to this story.