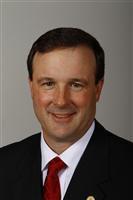 DES MOINES — Iowa House Speaker Linda Upmeyer says her Republican caucus will go forward with plans to hire a human resources manager to oversee harassment complaints at the Legislature after Senate GOP officials put similar plans on hold.
Upmeyer made the announcement Tuesday, shortly after Senate Majority Leader Bill Dix told reporters the Senate GOP office will delay a similar plan. Dix's office will instead hire outside counsel for more guidance on the issue.
Dix, R-Shell Rock, announced Monday the human resources job would be a joint position with the House. But Tuesday he said his caucus had raised concerns about accountability.
Both caucuses publicized their plans hours after Gov. Kim Reynolds said she wanted the Senate GOP office to share any additional information from an internal investigation into alleged sexual harassment within the caucus. Dix said he still won't release that information, citing privacy concerns.
Reynolds told reporters the office, which is run in part by Dix, should disclose any information not discussed during a recent trial, in which jurors sided with a former staffer who reported harassment. Jurors awarded former Senate GOP communications director Kirsten Anderson $2.2 million. The state later agreed to drop an appeal and pay Anderson $1.75 million.
Anderson, a former Senate Republican Caucus Staff communications director, won the judgment over allegations she was fired hours after complaining of sexual harassment on the job.
Senate Republicans promised at the time to investigate harassment issues. They announced recently their inquiry was complete, but no information would be made public due to privacy concerns.
"The investigation performed as a result of the recent court proceedings related to the Iowa Senate will not be made public," Dix said in a statement Monday. "Employees of the Senate have an expectation of privacy in these matters as reflected by Iowa's open records laws and court decisions, and that expectation will be met. Similar practices are also common in private sector employment. The investigation is complete and appropriate action was taken."
During her monthly WHO-AM radio call-in show Monday, Reynolds said hiring a human resources person would be "a step in the right direction." She said the executive branch has "a zero-tolerance policy" and "sexual harassment in any form is not to be tolerated."
However, the governor said she believed the Legislature should abide by a recently enacted law that says documents revealing why state workers are fired, demoted or resign to avoid termination are public records.
"We (the executive branch) have to live by those rules. It would seem that it would be fair if they would live within the same parameters that we do," she said. "If there's more information in addition to what we already know from the trial, then that should be disclosed. ... I think that they need to be transparent with the people of Iowa and they need to disclose that," she added.
Discussions about sexual harassment have gained traction in recent weeks around the country, including at statehouses, amid allegations of sexual abuse and harassment that started with film mogul Harvey Weinstein and have spread to include many others.