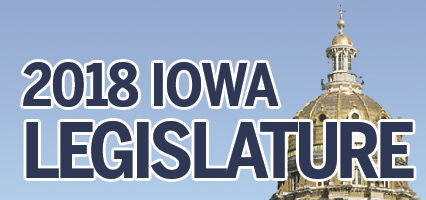 DES MOINES — Lawmakers advanced significant pieces of legislation, including a 20-year extension of the 1-cent sales tax for school infrastructure, ahead of today's "funnel" deadline to stay eligible for further debate.
The Secure an Advanced Vision for Education (SAVE) tax is set to expire in 2029. The extension bill was just one piece of legislation prompting House Speaker Linda Upmeyer, R-Clear Lake, to say the six-week-old session is on target.
"I think things are very much on course for the priorities we identified at the beginning of the legislative session, which if you recall were the priorities based on what we heard all summer," she said.
Several prominent measures remain alive for potential debate. Bills banning automated traffic cameras, making it illegal for doctors to perform abortions after a fetal heartbeat is detected and expanding religious freedom — including rights of those opposed to same-sex marriage — are still viable.
Other proposals are apparently dead for the year, although they can resurface as amendments to other bills.
One high-profile issue caught in the funnel — a proposal by House Education Committee Chairman Walt Rogers, R-Cedar Falls, to create educational savings grants, often called vouchers, for K-12 students.
Rogers pulled the bill Thursday, citing lack of support from committee members, including Republicans.
Calling it a "little defeat," Rogers said he will continue to work on ESA legislation. "I still believe in it very much."
Bills to reinstate a limited death penalty, make state employees financially liable for workplace sexual harassment damages and raising the legal age to buy tobacco to 21 also fell by the wayside.
While Republicans were optimistic about enacting their priorities, that wasn't the case for minority Democrats.
"I think it's been another year of bills that are going to hurt Iowans," Senate Minority Leader Janet Petersen, D-Des Moines, said. "I think that (Republicans) have implemented some destructive legislation."
With the first funnel deadline in the rearview mirror, the House and Senate will turn their attention to floor debate to move bills from one chamber to the other. House bills must be approved by a Senate committee and Senate bills by a House committee by March 16 to remain eligible for consideration this year.
While Upmeyer's priorities may be alive, numerous bills did not fare as well.
"Oftentimes bills need more work," Upmeyer said, "so they're set aside and we'll work on in the interim.
"But nothing's dead forever," she added. "Things are, from time to time, resurrected" — often as amendments on other bills.
School boards and other education interest groups have been pushing for a SAVE extension for a number of years. They said districts were finding it difficult to enter into long-term borrowing as the time remaining for the revenue grew shorter.
"There definitely is a pent-up demand," according to Emily Piper, a lobbyist for the Iowa Association of School Boards. The extension, if agreed to by the full House and Senate, will give local districts the assurance of a stable funding source for infrastructure, she said.
"I think it's a great step forward, and I think the commitment is there," to send the bill to Gov. Kim Reynolds.
The funds will be distributed on a per pupil basis except for increasing the allocation for property tax equity relief from $984 per pupil in fiscal 2019 to $1,087 in 2029 and $1,521 in 2050.
The bill also would require schools boards planning to issue bonds against the SAVE revenue to have a public hearing and allow 14 days for residents to call for a referendum. It also place limits on the use of SAVE funds for athletic facilities.