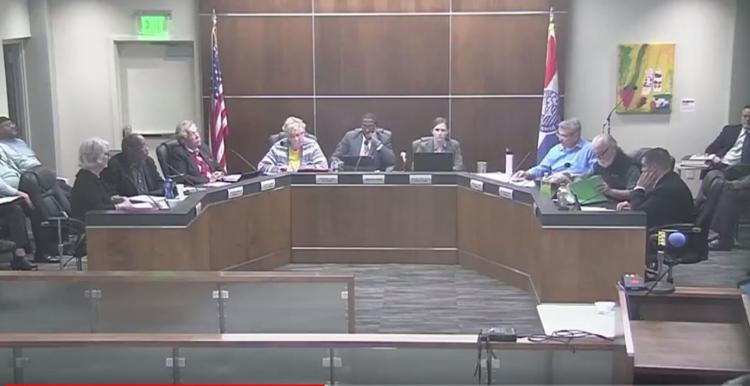 The adults have spoken. The state Department of Management told the bickering Waterloo City Council majority and Mayor Quentin Hart that its failure to adopt a fiscal year 2018-19 budget has consequences.
The infighting about raising taxes (and fees) or making significant cuts, particularly in public safety positions, has led to a budget stalemate between the 4-3 council majority and mayor. The failure to meet the March 15 state deadline will leave the city with the same level of tax collections for next year as in the current fiscal year. (The City Council added the budget to its Monday night agenda so a vote could come then.)
"Waterloo will still need to complete the adoption of a budget by resolution of the council," said Ted Nellesen, of the Iowa Department of Management. "Without a budget adopted by resolution, the city would not be allowed to tax or expend cash on hand during (FY 2018-19)."
The penalty prohibits the city from adopting a tax rate causing nondebt service property taxes to be higher than the current year, although that's unlikely to deter the current council majority.
Hart proposed raising the tax rate from $17.60 to $17.76 per $1,000 of value. That's actually a 1.4 percent cut in homeowner tax bills because the state rollback order reduced a home's assessed value from 56.9 percent to 55.6 percent.
Under Hart's plan, $12.14 would pay for police and fire services; $2.99 for debt obligations; 27 cents each for voter-approved library and Grout Museum levies; and $2.09 for parks, the library, general administration, culture and arts and all other property tax-supported operations.
He would pay the increased operating costs by raising the current gas and electric utility franchise fee from 3 percent to 3.5 percent to generate $450,000. The city adopted a 2 percent fee in 2013 and pushed it to 3 percent in 2014.
Franchise fees became a go-to "tax" for many cities after the Legislature approved property tax relief for commercial and multi-residential property owners in 2013, while promising local governments "backfill" funds to compensate for revenue losses, which inevitably fell short.
Council members Margaret Klein, Steve Schmitt, Bruce Jacobs and Chris Shimp supported a tax rate cut to $17.17 in line with the city's strategic goal of $16.50 by 2022.
They opposed the franchise fee increase and felt, rightly so, that Hart is too optimistic in including $1.7 million in backfill when the Republican-controlled Legislature is intent on straining state coffers with a huge tax cut.
Yet Jacobs and Klein didn't want to be bothered with service cuts.
"The council sets the direction of the levy rate, and we expect the administration and department heads to find ways to help us get there," Jacobs said. "I don't think it's our job to find what we're going to cut."
"We are simply the big picture organization," Klein said. "I will leave the development of that to the administrators."
Not so. To quote Pottery Barn, "If you break it, you've bought it." You'll own the pieces.
Waterloo Police Capt. Joe Leibold said a 2.5 percent cut in the police tax asking could reduce the force of 123 sworn officers by seven, while eliminating the Violent Crimes Apprehension Team and Safe Streets Task Force, which has taken almost 400 firearms "out of the hands of people who shouldn't have them. They've prevented shootings. … They are really dialed into the criminal culture at the street level."
A 5 percent cut could forfeit grant funding and 12 to 15 officers.
With a 2.5 percent cut, Capt. Pat Treloar of Waterloo Fire Rescue anticipated longer response times, now about 30 seconds behind its four-minute average goal, and station closures. Five percent could shutter Station No. 6 at Ansborough Avenue and Dixon Drive.
Leisure Services is facing revenue losses due to a new Young Arena lease with the Waterloo Black Hawks and a downturn in golf.
Klein suggested selling one of the three golf courses and closing one of the two swimming pools, although draining the Gates Park pool could make for a politically hot summer.
Schmidt broached Cedar Falls' approach to public safety officers — police trained to assist on fire calls, which Leibold and Treloar resisted. Given worst-case scenarios, it shouldn't be dismissed out of hand.
However, his idea of a metropolitan police force — saddling Cedar Falls with Waterloo's problems — will happen when pigs fly.
Waterloo is Iowa's fifth-largest city, but 12th in property values, causing its tax rate to be comparatively high, which the council majority cites as an impediment to economic development.
However, a significant reduction in city services also would be a large red flag to prospective businesses factoring in quality of life.
That's part of the big picture.
The folks on the City Hall playground need to reach a viable compromise.