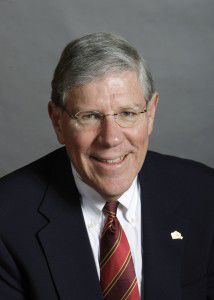 DES MOINES — A bill introduced last year to abolish tenure at Iowa's public universities failed to pass out of a legislative subcommittee Thursday — leaving it stalled, for now.
At least one member of the three-person subcommittee — Sen. Bob Dvorsky, D-Coralville — was dead set against the proposal, which has been pitched as allowing state Board of Regents institutions to more easily fire professors.
"We need to strengthen those universities and to do something like get rid of tenure, that would really weaken us," Dvorsky said.
The legislation, sponsored by Sen. Brad Zaun, R-Urbandale, went nowhere in the last legislative session. Zaun argues regent schools can't get rid of bad professors.
"I'm hoping that at least we have the conversation on this," he said after debuting the measure last year.
Dvorsky said he's all for conversation — especially in that it highlights processes already in place to weed out unproductive faculty and educates Iowans on the importance of tenure.
But, Dvorsky said, he doesn't perceive much of a future for the tenure-abolishing measure.
"It's hard to say anything is ever dead in the Legislature," he said. "But it's certainly on life support."
Another subcommittee member, Sen. Mark Chelgren, R-Ottumwa, voiced concerns tenure separates professors into a special class with special privileges. But, to garner his support, the measure would need amendments, and Board of Regents staffers alleviated many of his concerns Thursday.
"No one has signed it at this point," he said.
Zaun argued faculty sabbaticals have gotten out of hand, degrading the value of an education for students who are paying increasingly higher tuition.
Regent officers reported a small fraction of professors take sabbaticals every year, and many of their efforts while on break from teaching bring back millions to their universities — far outpacing the costs of letting them take a teaching hiatus.
When Zaun suggested some faculty show up on the first day of class and then leave the rest of the semester to a teaching aide, UI Associate Provost for Faculty Kevin Kregel said, "I've never heard of a faculty member walking into a course the first day and then passing a course off to a TA."
"We would not allow that to happen if we heard about it," Kregel said. "That does not happen."
"It does," Zaun said, to which board staff requested names.
"It should not happen, and if it does, tell us," regent State Relations Officer Keith Saunders said.
Although Zaun acknowledged passage of his proposal is an "uphill climb," he expressed appreciation for the conversation.
"I'm hearing from a lot of parents that are concerned about what's going on at our universities," Zaun said. "I wouldn't have filed the bill if I didn't want it to move forward."
The issue of tenure is being raised at a time of deep cuts in state funding for Iowa's state universities and proposals from the campuses to raise tuition rates in response — in hopes of having enough resources to retain and attract top faculty.
No lobbyists have supported Zaun's legislation — 17 have opposed it and 11 have said they're undecided.
In a statement, the Board of Regents strongly opposed the bill.
Saunders said the University of Iowa, Iowa State University and the University of Northern Iowa collectively bring in more than $1 billion to Iowa in outside funding.
"That wouldn't happen without a tenure system because the best researchers, the researchers that are able to attract the big-dollar grants ... they'll go someplace where they can get tenure and that money wouldn't come to the state and our students wouldn't benefit from those faculty members who do that teaching," Saunders said.