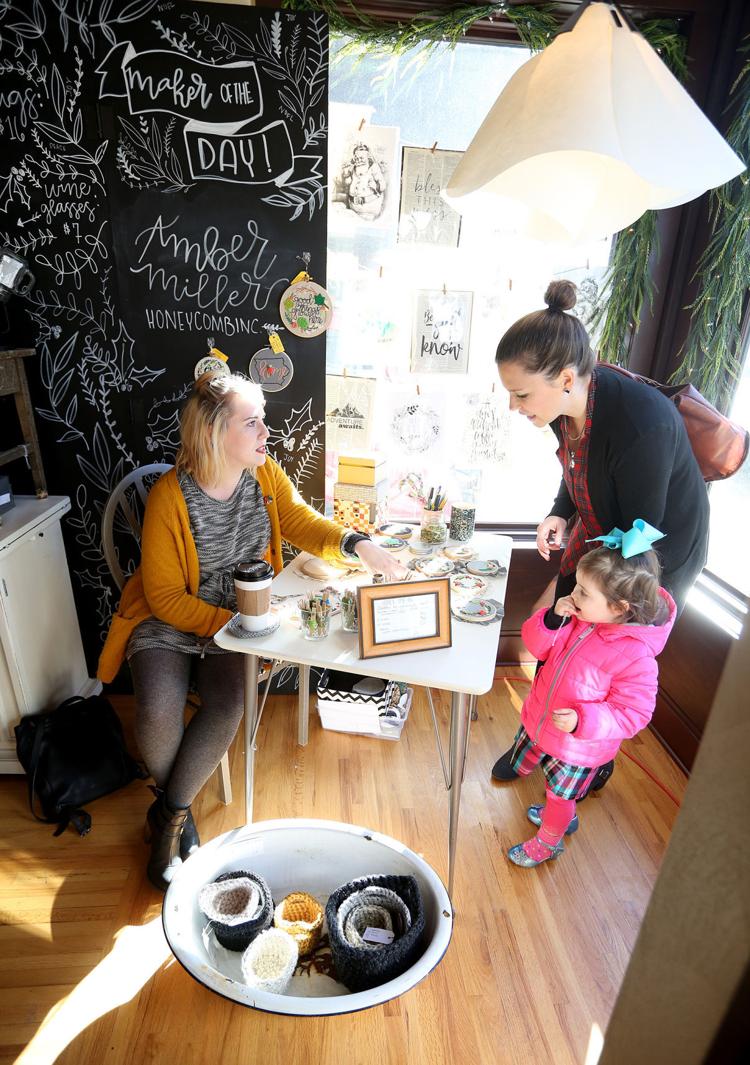 WATERLOO — A new Main Street Waterloo program helped many new retailers join existing downtown businesses for the holiday shopping season.
Shelly Delagardelle's Simply Artful, a stenciled goods business normally run online or at craft shows, was one of 10 pop-up shops opening in temporary downtown storefronts for Small Business Saturday.
"I finally got my shop, and it's awesome," said Delagardelle, who was in small space at 212 E. Fourth St. "I've already sold a few things, so that's great; and I'm loving all the people."
Around the corner at 615 Sycamore St., Katie Patterson and her friends opened Goods in a vacant portion of the renovated New Plaza Hotel building. The store, which has 15 different makers selling locally curated home decor, was packed.
"They all have side businesses, so they can all sell their stuff beyond this," Patterson said of the artists. "It's just a way for them to get a little jump start on their business and promote them.
"We've had so many people from Newton's come over, or Brown Derby, and they say 'You should be here permanently,'" she added.
Greg Brown opened Epic Finds on the corner of West Fourth and Jefferson streets as a pop-up shop to sell vintage furniture he's picked up from the 1940s through '60s.
"Even some '70s if it looks cool and has that vibe to it," Brown said. "I've been selling some of it from my house, but I just needed a retail environment like this to showcase it.
"It's a great space," he added. "I'm thankful for (landlord) JSA (Development) opening it up and Main Street Waterloo for getting behind it."
Each of the 10 downtown pop-up stores will be open from 11 a.m. to 5 p.m. every Saturday until Christmas.
"We had open storefronts so we thought let's program those," said Nick Hedrick, interim Main Street director. "Let's bring people downtown, let's show the spaces off that we have and show the retailers that their shops would work downtown.
"It's busy downtown. Isn't it great?" Hedrick added. "Hopefully every Saturday is this busy."
Shoppers were out in force on the day between Black Friday and Cyber Monday to support their friends and neighbors running small businesses in the Cedar Valley.
Parking spaces and elbow room both were at a premium on Main Street in Cedar Falls as shoppers carrying "Shop Small" tote bags went from store to store.
Ann Eastman, who has run Miss Wonderful Vintage in downtown Cedar Falls for five years, said Small Business Saturday is one of the busiest and most important days of the year.
"We really are feeling the love from customers," Eastman said. "We're trying to connect with each customer today and say thanks for shopping locally.
"It means everything. We cannot exist without the support of our local community. They can choose to go to a big box store, but they've chosen the charm of downtown.
"The crowds are just fantastic and the energy is so good," Eastman added. "Everybody's in a great mood. Everybody's feeling festive. The weather is great."
Julie Cuvelier of Cedar Falls started her Saturday in downtown Cedar Falls but wound up in downtown Waterloo where she was carrying a newly purchased table from a pop-up store.
"The Shop Small for Saturday (movement) is exciting for me," said Cuvelier, who has been convincing her Cedar Falls friends to check out the revitalization activity in downtown Waterloo.
"To get people to physically come down and get people to see it takes a day like today," she said. "An exciting day like this is very helpful for this area. I love to see people down here like this."