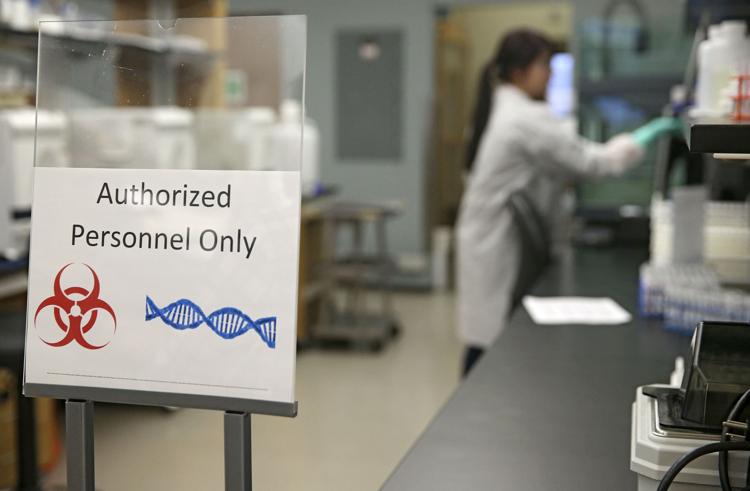 IOWA CITY — Wade Aldous, disease control director for the State Hygienic Laboratory at the University of Iowa, isn't sure how the lab known for confirming cases of West Nile virus, influenza and food poisoning got on a state list of family planning program providers.
"I think that they use the term 'provider' very loosely," he said. "We do not see patients."
The state's list of 1,431 providers as of Dec. 21 also includes dermatologists, surgeons and a pulmonologist — none of whom typically offer family planning services or prescribe birth control — and more than 100 providers without Iowa addresses or phone numbers.
The Iowa Department of Human Service offers the searchable database as a way for Iowans needing family planning services to find a provider under a new state program. But errors, duplicate names and listings for providers who don't see patients may deter Iowans who need services such as birth control, pregnancy tests and treatment for sexually transmitted diseases, advocates said.
"That is not a very user-friendly list," said Jodi Tomlonovic, executive director of the Family Planning Council of Iowa. "It would be difficult for a patient or potential client to use."
New program
The Legislature last year created the $3 million Family Planning Program to funnel money to women's health care clinics that do not perform abortions.
Though even under the previous program no taxpayer money was used directly to perform abortions, Iowa rejected federal money that allowed participation by providers — most notably Planned Parenthood — that include abortion among their services.
The rate of abortions in Iowa and across the nation has dropped in recent years, with 4,380 abortions, or 7.5 per 1,000 women, performed in Iowa in 2014. More than 5,600, or 9.7 per 1,000 women, were performed in the state in 2011, according to a report from the New York-based Guttmacher Institute.
Iowa's new Family Planning Program helps cover the cost of birth control, pelvic exams, pregnancy tests and some testing and treatment for sexually transmitted diseases for women and men ages 12 through 54 with household incomes up to 300 percent of poverty level.
On June 6, less than a month before the federal funding was set to expire, Human Services sent a letter to all Iowa Medicaid providers asking them to attest online that they do not provide abortions in order to be listed as a provider eligible for reimbursement under the new program.
Two weeks later, Human Services sent a second letter to clarify that providers that don't provide family planning services did not need to submit the paperwork.
"We think there were many providers who saw a letter from the government saying 'Do you do abortions?' Tomlonovic said. Clinics that don't provide abortions — but also don't provide family planning services — may have completed the paperwork, she said.
That might explain how Mark Wertheimer, a now-retired cardiothoracic surgeon in Dubuque, ended up in the database of family planning providers.
"I don't have the faintest idea," Wertheimer said about why he's on the list.
He said he did not prescribe birth control pills or offer family planning services in his practice at the Medical Associates Clinic in Dubuque.
Wertheimer doesn't recall getting a letter about the Family Planning Program.
"I get put on all sorts of lists for things," he said. "They get my name mixed up with someone else's."
Dermatologist James Karkos and the Mercy Dermatology Center in Mason City also are on the list.
"Thank you for bringing this matter to our attention," Stephanie Duckert, marketing manager for the Mercy Medical Center-North Iowa, wrote in a Jan. 10 email to The Gazette. "Dr. Karkos and the Mercy Dermatology Center do not provide family planning services."
Duckert said she's looking into whether Human Services can remove the names from the database. "We are committed to ensuring our patients and families have accurate information about our providers and services."
More than once
Nearly 20 percent of the providers in the database are listed more than once — in some cases as many as five, six or seven times.
This may be appropriate if a doctor or nurse practitioner practices in multiple clinics, sometimes in different towns, Tomlonovic noted. However, there are many occasions in the database where the same provider's name is listed multiple times with the same city and phone number.
"When you have the same provider and same number and office location listed, that is a problem," Tomlonovic said.
The Family Planning Program database has 135 listings for independent laboratories, the bulk of which are located in other states including California, New Mexico, Michigan, Illinois, Tennessee and Texas. None of the out-of-state labs have Iowa phone numbers, although some have toll-free numbers.
Julie Lovelady, the state's Medicaid deputy director, declined to talk by phone about the Family Planning Program database. But Human Services spokesman Matt Highland did answer some questions by email.
"The list is generated automatically from each provider's enrollment record with Iowa Medicaid," he said. "By pulling data directly from this system, it offers the most real-time information, as it updates each night."
The list includes all providers who have attested they don't do abortions and are eligible for reimbursement for family planning services, he said. Labs didn't have to complete an attestation, Highland said, but if they did, they were included in the database.
The department stands by the multiple listings of providers who completed attestations at different addresses.
"If the provider is affiliated with a specific location, and if that location completed the attestation, Iowa Medicaid's provider enrollment system recognizes the provider each instance," Highland said.
Tomlonovic from the Family Planning Council said she's asked the department to remove inaccurate and duplicative information from the database. "We have said to DHS several times they need to clean up the list," Tomlonovic said. "They know that."
When asked why concerns with the database remain, Highland said Medicaid "strives to improve our provider lists continually."
However, he added: "Iowa Medicaid does understand that due to complex nature of provider enrollment, some confusion may be caused."